It's no longer about selling a service or a product – customers expect an experience that is personalized, engaging and seamless. As organizations begin to build design teams internally, there are challenges that can easily cause the design and development team to be disconnected and quickly find themselves working harder than necessary to be consistent. Below are some challenges that I have faced in the past and some tips on how to overcome them.

Challenge 1: Embedded UX on an agile team
Most companies are now moving toward an agile work environment as it helps move your product from concept to market much faster. This also opens the door for the team members to learn from each other and to be exposed to different skill sets and perspectives on design approach and execution. Many times though, a UX designer can begin to feel isolated if they do not get a chance to be part of the broader UX team. I have seen various instances where good user experience has been compromised because the designer may feel pressure from the development team or the product owner to cut corners on the design just to meet deadlines. It's not that the development team or the product owner do not want to deliver a good experience, I've known many passionate ones, it's that they may have different motivations or drivers to be measured by.
One of my most recent roles was to manage a team of UX designers, each one assigned to a different agile team. For the most part, the team were all working on various 'products' within a set of applications and websites that were co-related, but the difficulty came with the maturity of the agile team itself. A very mature team who 'knows their product' can easily become too attached to what they have built and they may find it difficult to see the need for change. On the other hand, a new team who is just getting to know one another may feel the pressure from management to deliver something the more mature team is used to producing. Whatever the factors may be, there is a definite history of UX designers having to 'give-in' on ideas in order to go with the flow. This can be demotivating and disconcerting, no matter what level of designer you are.
A few things can be done on a regular basis to help keep your designers in a positive mindset:
At the beginning of the week, have a UX team stand-up. Give your team members the opportunity to briefly share what they are facing that week and where they may need support or feedback from the rest of the team.
In the middle of the week, buy out time as a team to share the work. Delegate the responsibility ahead of time for someone on the team to own the agenda. Share key problems and ideas that may be pattern changers or new features that may not be featured in your pattern library. Discuss the reasons why or why not to adopt such a design. This may also be the time that designers find it comfortable to vent about a struggle they may have within a project. Let them. But always guide it back to an opportunity for the UX team to educate and teach what we do and how we do it.
Have one-on-ones with each designer throughout the week: 30 minutes each. (5 minutes for personal check-in and touch base on work/life balance. 10 minutes to talk about the work. 15 minutes to provide support and coaching. The key is to really listen to your designers.)
Don't forget about education and career advancement. There is so much going on in our industry it's a full-time job just to keep up. Fortunately, industry leaders like Jared Spool provide a nice library of webinars and articles that can be watched or shared during a team lunch once a month. These are great tools to help build the motivation and re-charge the thinking of a design team.
Challenge 2: Consistency
Having multiple designers, each with different backgrounds, skill sets and ideas can quickly bring a mix and match of ways to design even one thing. It is vital that you establish a pattern library and style guides. This will not only govern your design team and their decisions, but it will make your developers very happy.
If you really want to gain value out of your UX design team, create and use a pattern library with your developers. It will help them focus on more important things within a design. There are many common behaviors and patterns on the web that I still see designers trying to tackle and reinvent, whether that is a dropdown menu, search bar or even just a simple button. (Unless you are part of a start-up or are trying to get 'likes', the majority of the designs you will be working on in your career do not require you to bring Dribbble concepts to the team.)
For starting a pattern library, check out Brad Frost's Atomic Design approach. Also from Dave Olsen: Pattern Lab. Google developers also had something to say about it.
Challenge 3: Language
There are two sets of conversations that need to come together during the design process. Business and experience design.
Business works hard and strives to understand the value that their offering brings to the customer and designers work to understand human behaviors and interactions with the offering. As business scales and pivots, there are times when decisions are made by the executive teams that are not fully transparent to the design and development teams. This pivoting, if not well communicated and understood, can cause a major frustration on the part of the designers and developers. To a reasonable degree, business needs to help the design and development teams understand their decisions and why these decisions are made. Otherwise, we as designers and developers are asked to compromise with what we may know and understand about the customer's actions. Which gets into the other side of the table, designers need to well understand and communicate customer behaviors to the business team. The designers are responsible for helping business understand how their designs deliver on meeting business goals and customer expectations. This exchange of information is vital for success as a business. There needs to be more collaboration amongst business, designers and developers to deliver what the customer not only expects, but what also goes beyond customer expectation. I have been in more than one meeting where levels of frustrations rise between business, designers and developers who all are striving for the same thing, but don't recognize that each team has not provided enough context and information to be on the same foundation.
What are some simple things that can be done to ensure that all teams know and understand executive decisions that affect customer experience?
Appoint design representation at the executive level. Understanding your customers at an empathetic level is crucial in today's world. Customer expectations are high and they have easy ways of letting you, and others, know if you've met them or not. Having an experience design leader representing this voice will help other executives build empathy and the customer at the forefront.
Exposure. As designers benchmark current experiences and test new concepts, executives need to be a part of that research phase. Invite your executives to witness interviews, focus groups, usability tests, etc. Involve the executives in collecting the data from which they've just heard and have a quick discussion about what they may have learned about their customers. This is the easiest and most valuable way to get executives to hear first-hand what their customer's think about the experiences they have.
Assign and embed product owners within the agile teams. This can ensure that there is a business tie and relationship on a daily basis with the design and development team. Product owners need to have a vision that directs the team and as a product team, there needs to be an enterprise level vision that can support the validity of each product. With a vision, teams can rally and march toward the same point, even though they may not always have the details on how to get there.
Establish a process and learn from it. It should be no surprise to business what we do and how we do it as designers and the same goes for business. Collaboration is key. Communication is key. Be lean and don't get too hung up on getting it right the first time. Be quick to learn not only from your product enhancements but your process as well. Never let process get so out of hand that you delay yourself to market or to learn from the customer early on.
Challenge 4: Understanding Levels of Service
When entering a new position or reflecting on your current position, you need to understand what level of UX design service your company understands, needs and desires from you.
Designers are very passionate about solving problems they see within their organizations. It's even easier to identify UX issues if you are looking in from the outside. However, most organizations have a lot of closed door bureaucracy and red tape that prevents even the simplest changes from being fixed. I have seen designers leave organizations, myself included, because we have hit "the wall" on solving easy to identify issues. Where we were wrong though was having a good understanding of where the business was coming from and having a lack of understanding of maybe how that business approached their problems to be solved.
This level of service was nicely outlined by our above mentioned friend, Jared Spool, in one of his workshops of identifying the UX maturity of your organization. Here is a reference: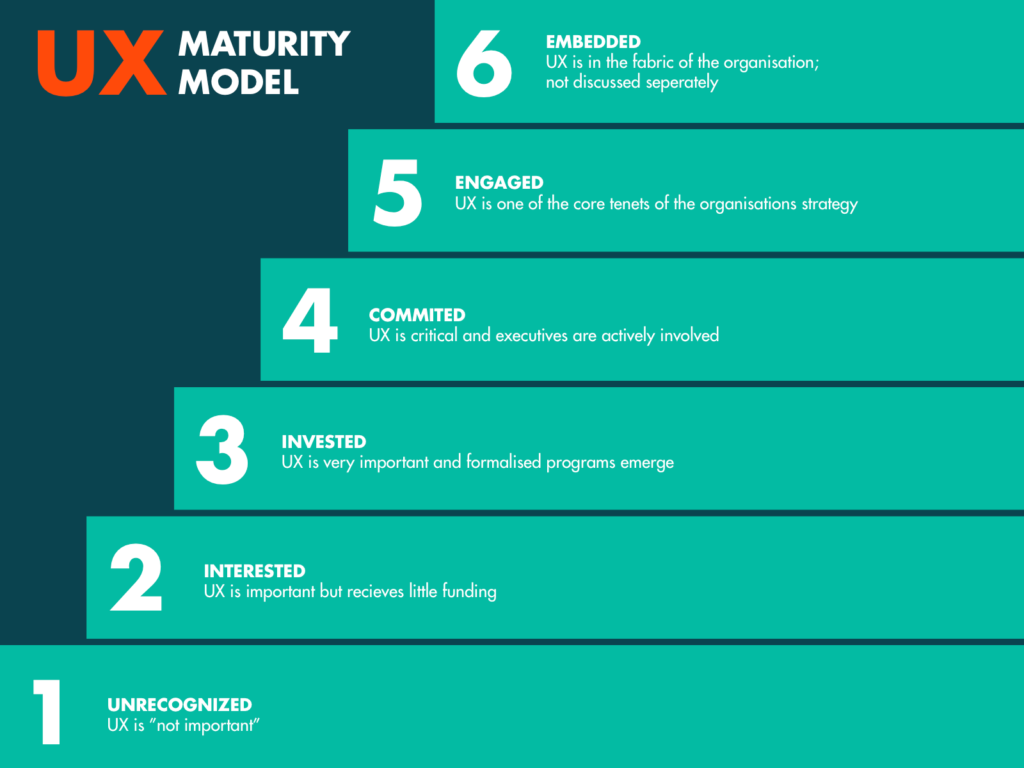 When you understand your organization's UX maturity, not only are you creating the right expectation for service and deliverables, but it gives you a benchmark of how you can deliver on your service and deliverables. The key is to establish a common ground and understanding of what it is you can offer. There is always room for growth and education. In order to make an impact, you'll need to collaborate with stakeholders to establish where you are and where you want to be as an organization. Don't be afraid to have an honest conversation about what you are observing as the service level, it's best to ask then to sit back and fill your mind with frustrations. You may be surprised about what others are seeing and perhaps would desire from you.
Challenge 5: Building in Research: Time, Budget and Action
Simply put, this is the most overlooked, yet most important piece of UX design that I have seen in product and service design. This also may be the most difficult part of the design process to get respect, funding and time for. However, with the rise of social media, blogs and other channels have come about, the customer has a voice today, even if you want to listen or not.
Ideas are easy, it's a question of does anyone else think that idea is valuable. Without building in time to talk to, observe, empathize with and understand your customers, you are designing in a world of hypothesis with your own bias and experiences as the basis for decisions. Without user research, you'll need to remove the 'U' from UX design.
So how do you build the case for channeling your customer's perspective? Again, it depends on the level of UX maturity within your org, but don't be intimidated and overwhelmed by all the research options. Start small if you need to, even a simple conversation in a coffee shop with potential customers. Using tools like InVision provide ways for you to quickly prototype designs and receive feedback on your designs.
Whatever process you choose, the key is that you are receiving useful feedback on your approach. You need to go in knowing what it is you want to learn, establish a lean process, document the findings, and expose your stakeholders to those findings. (One exercise I like to include stakeholders is to have them follow a journey map and document highs and lows as they listen to customer feedback. This eyewitness account builds a deeper appreciation and empathy for what customers are experiencing. It also now empowers your stakeholder to share what they have learned with others, which spreads like wild fire throughout the organization.)
Once this pattern is established, you'll need a team to support it. Begin with the UX designers incorporating a test or discussion here and there. The value to the exercise will quickly be seen and appreciated. As you get more mature with the process and research needs, assess if there is a need to hire a dedicated resource to handle the workload.
What have been your challenges?
These are just a handful of the many things that I as a UX designer and manager have come across working with organizations who represent both sides of the UX maturity spectrum. Each challenge is an extensive discussion in its own respect, but hopefully I have offered some insight into a direction that can be taken to help overcome the challenge. I would love to hear what you have experienced as a designer. If you are product owner, developer or another type of stakeholder, what challenges have you faced working with UX designers or teams? Where could we improve on our efforts to bring you into our line of thinking?